Norwegian Bliss 2021-12-12 through 2021-12-19
Back on the sea at last!
This cruise was a number of firsts – first cruise since 2019 (so first cruise in the Twenties), first COVID-protocol cruise, first cruise to the Mexican Riviera.
This was our third cruise on the Norwegian Bliss – we sailed her to Alaska and the Eastern Caribbean previously.
It was also our third cruise with some of our best friends – we met them on the Norwegian Jade in 2017, and sailed on the Bliss with them in 2019. Sailing with others is often fraught with peril, but we're all still speaking, so all is well.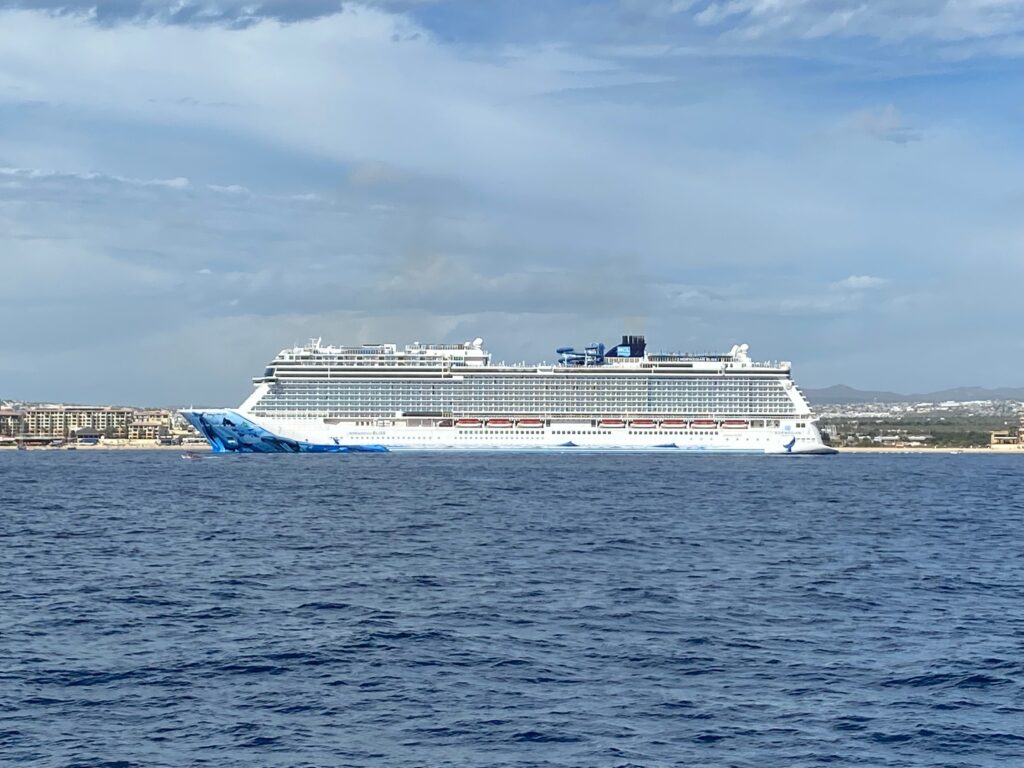 Norwegian Bliss
Norwegian Bliss is a Breakaway-Plus class ship, one of the largest ships in Norwegian's fleet. I was originally allergic to large ships, but sailing on this class has changed my mind. It also didn't hurt that we were sailing at half-capacity or so.
Norwegian's COVID-19 protocols were strict and enforced – all passengers and crew were vaccinated (you had to show your vaccination record during check-in), all of passengers were tested before boarding (everyone went to one pier for testing and then back to the real pier to board), all crew was masked. The passengers were not required to wear masks, although some chose to do so. In port, we followed local rules – and all the ports required masks.
The testing had to be scheduled with the independent testing company, which meant arriving at the port at the scheduled time was much more important than usual. On almost all of our other cruises, people just showed up "whenever", but now, you really should only get to the port in time to do your COVID test.
Once you donate your snot sample, you wait in a waiting room until the results come back. The results are texted to you, or your number is displayed on the wall. It's not announced out loud, probably to avoid stampedes (for positive or negative results.)
It did occur to me that separation was critical in the waiting room, since everyone is waiting for test results. I think this is why the testing is pre-scheduled.
We were in the Haven, so we were in a bubble in a bubble. It has its own restaurant and bar, so we ventured out a few evenings, but often just ate in the Haven. (My only complaint is the Haven restaurant menu is never changed.)
We had dinner at Q for "Texas barbecue" as one of our Platinum Plus dinners. I'm from Texas, and this is not exactly Texas barbecue. It's decent, but I've had better at home.
We visited Cagney's Steakhouse twice, once as part of our included meal plan and once because it was one of our Platinum Plus dinners. For the first time in 20 cruises, the service wasn't very good. The food was, but when it takes over an hour to get an entree, that's a bit much. (The delay was a party of ten – without reservations – being seated and served while the rest of us that had planned ahead waited.) It was the one place where it seemed like the staff was still coming up to speed.
We had dinner at Teppanyaki the last night, which was fun as always. I also remembered that you can order steak and shrimp and substitute scallops for shrimp, my favorite combination of surf and turf.
We did lunch at the American Diner one day, and I think it's worth the up-charge. (My wife disagreed – she said the fried chicken was excessively salty.) I always worry about it (as I worried about Margaritaville, its predecessor), because there weren't many people in there. Of course, there weren't that many people on the ship.
I finally got my wife to Coco's for gelato. I visited on our last Bliss cruise, because I passed it on the last day, and said, "I'm not missing this." I'm glad I did, because that meant I knew to go back.
Mexican Riviera
This was our first cruise to the Mexican Riviera – the western coast of Mexico. All of the ports are on the mainland, which contrasts with Caribbean cruises which call on islands.
The advantage of a Mexican Riviera cruise in COVID times is that you visit three ports, but only one country. In the Caribbean, each island is usually an independent nation, so there are many more rules to contend with – and some islands have been closing to ships after the cruises are scheduled (and purchased.) All the Mexican ports required masks to be worn once you left the ship. It was enforced, mostly.
The disadvantage is that you are visiting ports in the same country that are relatively close together, so as much as they all try to have their own personalities, it's still Mexico.
There's not a lot of difference I could see in the Mexican West Coast port cities and the promised resort aspects of each that are advertised require you to go to an actual resort – it's not in the town. If go to Puerto Vallarta expecting a resort, you will be disappointed. If you expect a smaller, less affluent Cozumel, with pushier salesmen you will be fine.
We were interested in visiting the ports, but also a bit apprehensive – not just because of COVID-19 concerns, but because the western Mexican ports are not always considered safe. When everyone in the known world is freaking out about COVID, and the State Department is warning visitors to the Mexican Riviera about crime and kidnapping, that was a bit of a concern. We stayed on our excursions or close to the port, and we were fine.
Los Angeles (Embarkation/Debarkation)
The Port of Los Angeles is actually in San Pedro, and it is a cruise port next to a huge commercial port (the one where all the container ships are parked, waiting to unload.) It was dark when we sailed, so we didn't see the container ship parking lot.
It is anywhere from a half-hour to an hour or so from Los Angeles International Airport (LAX) to the port area. We booked the Doubletree San Pedro near the port for the night before the cruise because it was close to the port and because I had Hilton miles. (The hotel had a free shuttle to the port.)
We had dinner in the hotel restaurant after we arrived and checked into our room. It was our first meal in a restaurant since March 2020.
We flew into LAX because we got free airfare as one of the perks with our cruise fare. We had nonstop flights on American Airlines from DFW, and paid the deviation fee to fly in a day early. The one challenge we had was our return flight was not until 5:30pm which meant we were getting home really late – and I was starting a new job the next day. So, for our return flight, we booked our own flight on Southwest from Long Beach (LGB), returning to Love Field, which is closer to our house.
LAX has a special lot for ride-shares and a shuttle from the terminal to the lot. So, getting an Uber was pretty simple. However, it was really expensive to get from LAX to our hotel near the port. (The 22-mile trip from the airport to the hotel was $98. The 27-mile trip from our house in Dallas to DFW was $58. The 7-mile trip from Love Field to our house was under $20.)
LGB is a small airport and unfortunately labeled for Google searches. It was closer to the port, and much more convenient. If we ever cruise out of Los Angeles again, I would fly to Long Beach on Southwest. We passed a number of hotels along the way that might be closer to the port than the Doubletree.
So, we had four ports (Los Angeles, Puerto Vallarta, Mazatlan, Cabo San Lucas) and four airports (DFW, LAX, Long Beach, Love Field.)
Puerto Vallarta
I had been to Puerto Vallarta years ago, but I spent a week in an all-inclusive resort, so I had actually never been in the town. I don't think I missed much.
Puerto Vallarta is in agave country and that means tequila. I don't really drink tequila, but am always willing to try. We did a Tiles, Tequila and Shopping tour. It should have been Shopping, Waiting and Tequila. Tiles was a bust, Tequila was great. The Tiles section of the excursion was actually just stopping in town at a tile store with a small factory upstairs, with a leather store next door and a jewelry store across the street. You will see leather, jewelry and vanilla anywhere you go in Mexico, so it wasn't that special a tour.
We started at the jewelry store which had salesmen that gave new meaning to the word "pushy" even for Mexico. I have never had someone put a ring on my finger while I had my hand outstretched (note to self: stop talking with your hands.) I'm still not sure if he was trying to sell me on it or if we are engaged. When we were waiting for the tour bus, he was still trying to sell me the ring. (We bought a nicer ring in Mazatlán for 80% less.)
We did get a custom number plate for the house at the tile store. You choose the proper numbers and a frame, and they assemble it for you, with spacers, while you wait. (I think they are glued into place.) Everything from the tile store survived the flight home, so they know how to wrap.
The tequila was great – we had flavored tequila (who knew?) We also acquired some for the house – almond, coffee and peach. The tacos and margaritas for lunch were tasty, as well. Now, I like tequila – at least, coffee tequila.
(Graham Gnome photobombed my margarita.)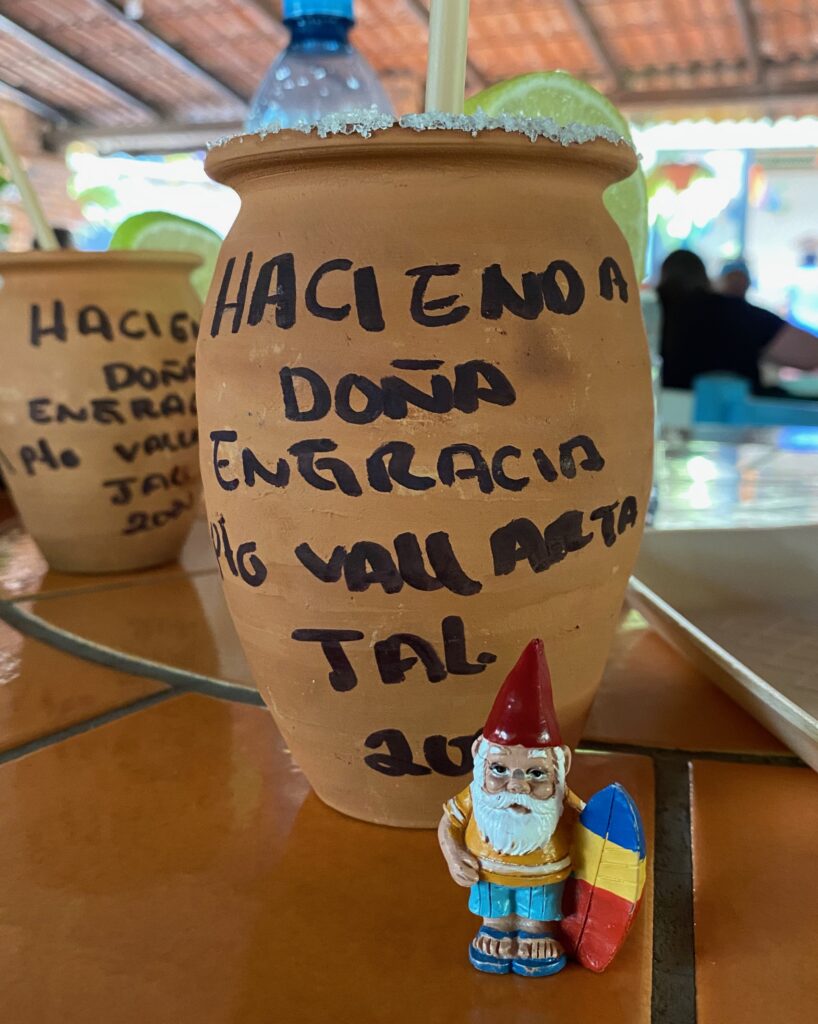 Mazatlán
We were going to do Salsa and Salsa (which we had done in Cozumel), but had a couple of walking wounded in the group by this point, so we just wandered into the port to look around. There we found a number of shops and … a bar. The Green Bar was a great place for a drink and an incredible way to distract my wife from shopping. (The food was good, as well.)
I did ask what the difference between a Special & Original Margarita was, and the waiter said they were the same thing! (The regular margaritas were excellent.)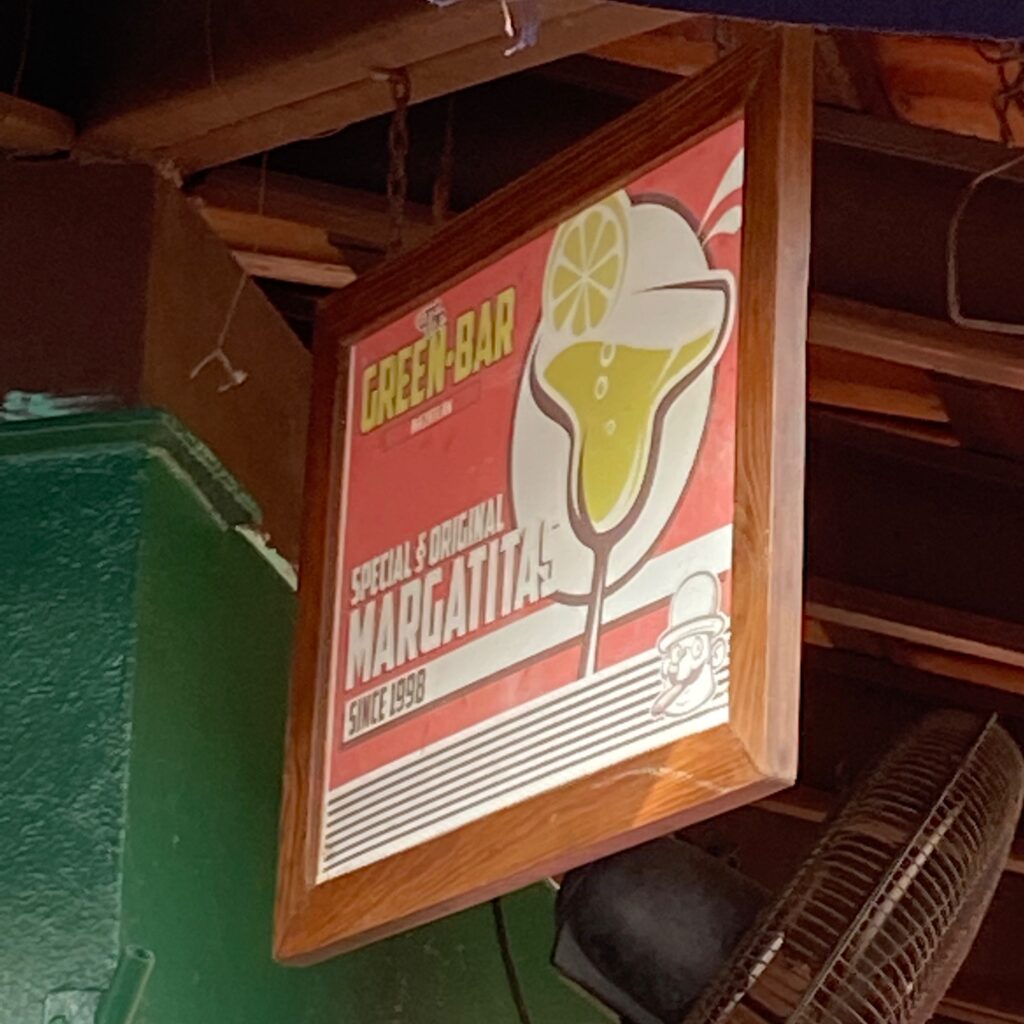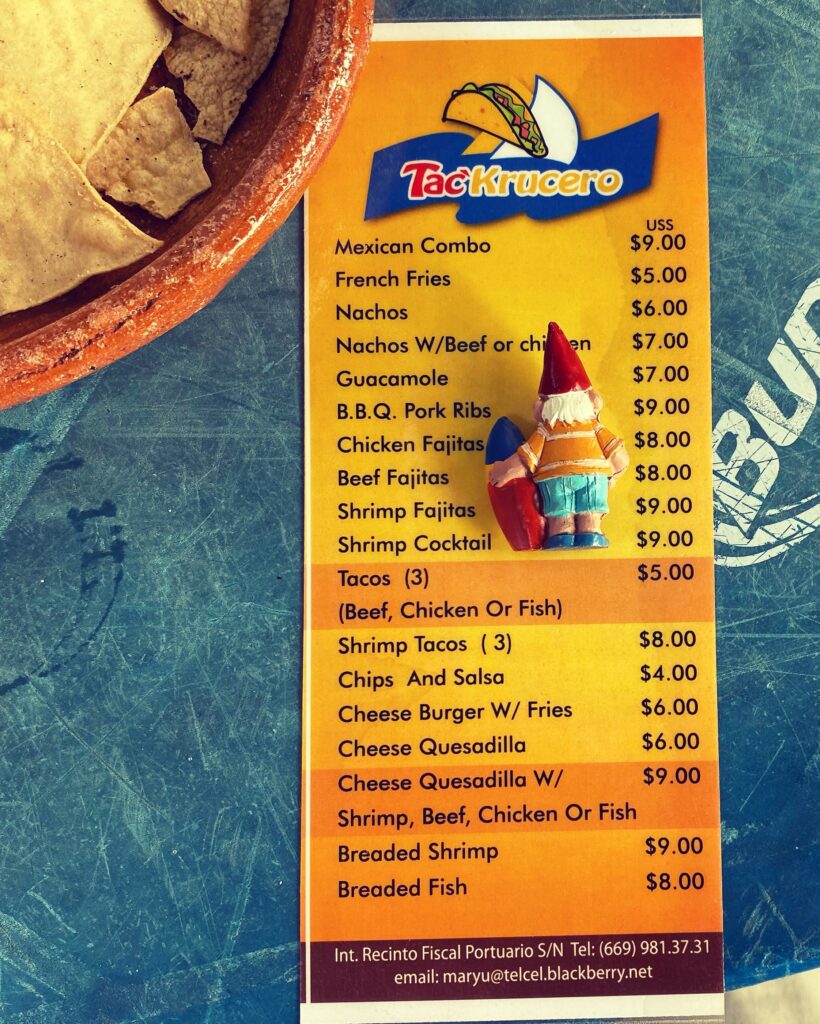 Cabo San Lucas
Cabo is known for whales. It is actually at the meeting point of the Pacific Ocean and the Gulf of California. We took a whale watching cruise that took us to the meeting point of the waters and then went searching for whales.
We saw whales, but not a whole one, much like our whale watching in Alaska.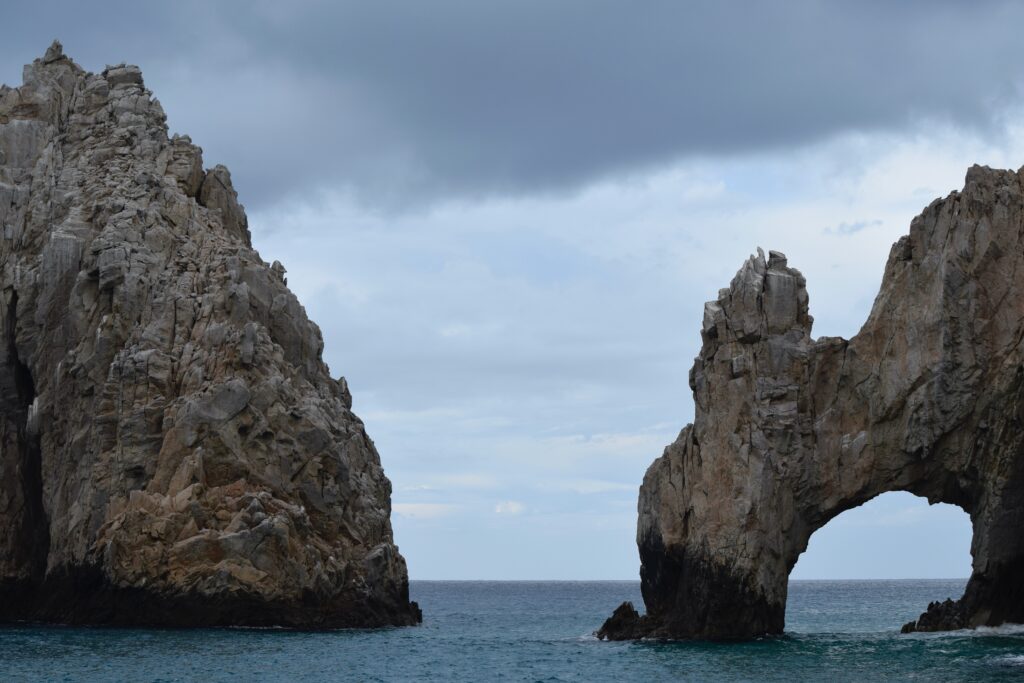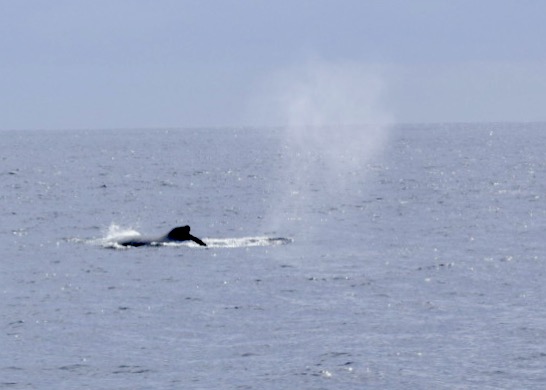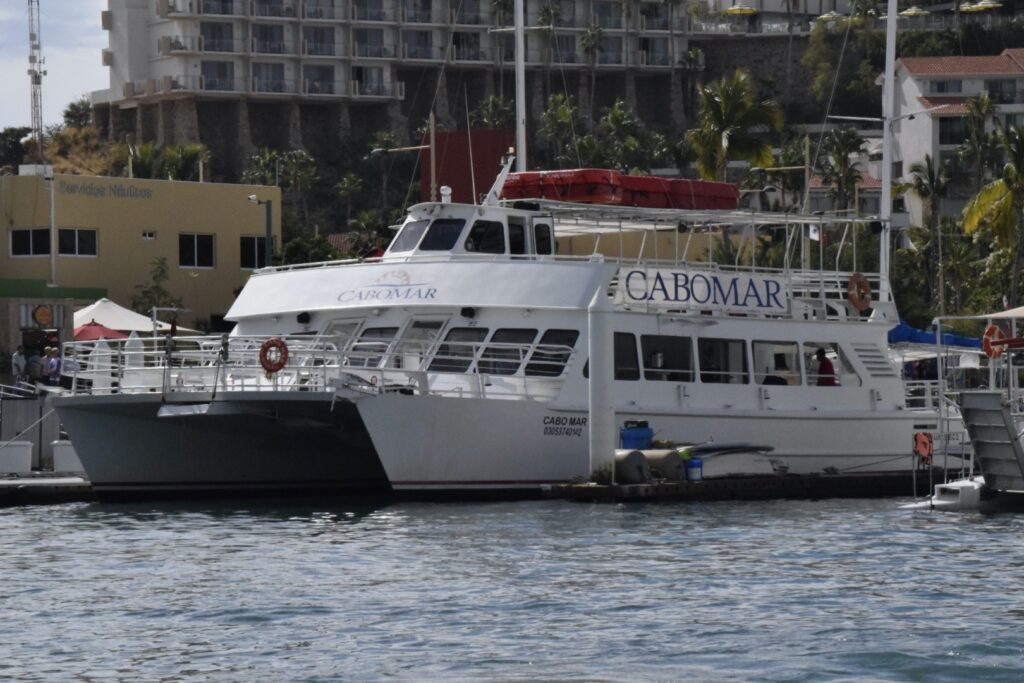 At Sea
This was an interesting itinerary – embarkation, two sea days, three ports, one sea day, disembarkation. So, we had some time before the ports to get acclimated, play on the ship, and enjoy the ocean. After the ports (which were all early days), we had a day to recover before we disembarked.
The first sea day was cold. This had never been an issue sailing out of Miami, so it was unexpected. It was cold when we left LA and it was still in the sixties the next morning. While this is not cold to many, it is cold to someone from Texas who had packed shorts. The weather the second day was warmer and Mexico was in the 80s. The final sea day was a bit chilly as well. I usually have coffee on the balcony on sea days, but the first and last days, I went out, took a GPS reading and went back in.
Even though today's cruise ships are basically floating hotels, sometimes, the most important part of a cruise for me is remembering that you're on the ocean. It's called "Vitamin Sea." The best way to absorb a good dose of Vitamin Sea is to sit on your balcony and watch the sunset. We managed to do so a couple of nights.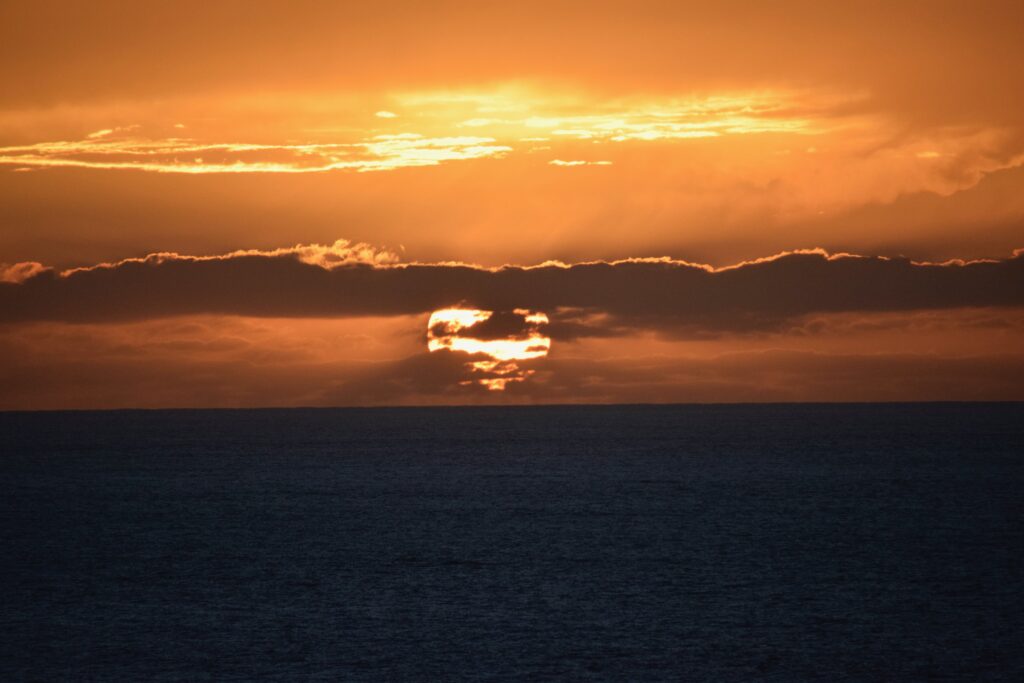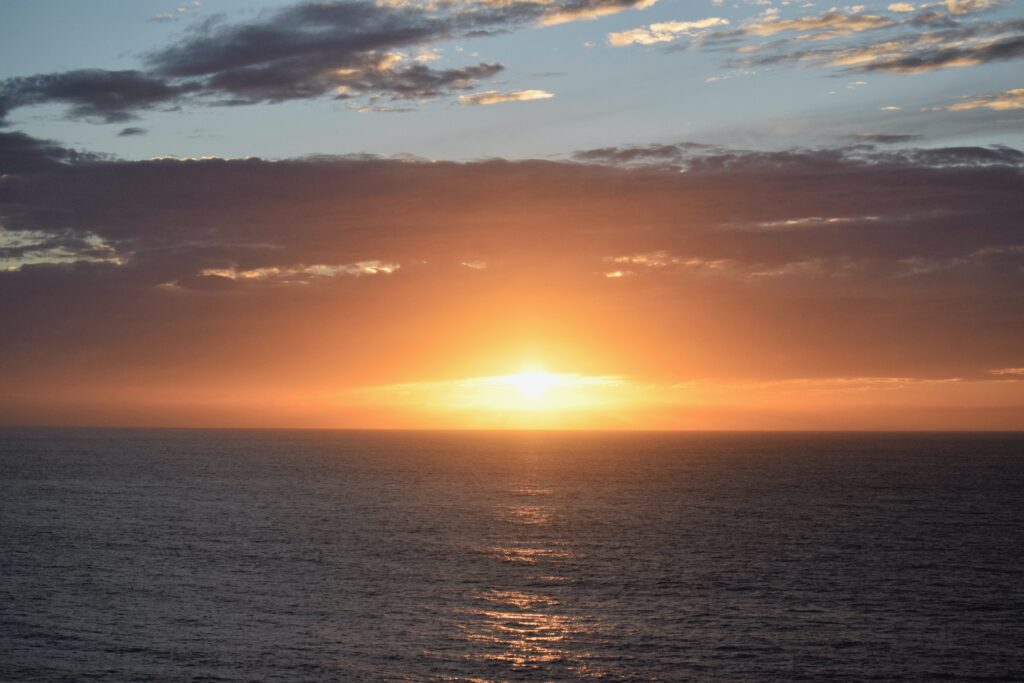 Random Notes
This was an interesting trip.
It was a Christmas cruise for us even though it was the week before Christmas. Sailing the week before saves a lot of money but then you're home on Christmas Day. We started cruising at Christmas in 2009 specifically so we wouldn't be home on Christmas. Also, in the time of COVID, you're supposed to self-quarantine after a cruise, so we really can't see anyone on Christmas Day this year, because we're waiting for test results. However, as bad as the timing might have been, I am glad we went when we did, since the cruise after ours (the real Christmas cruise this year) required everyone to wear masks onboard.
We were out of practice on travel. We still had checklists and we planned everything out ahead of time, but we didn't stick to the plan. Part of this was us and part was traveling with another couple. Traveling with others requires flexibility, which is not an issue, it's just something we had forgotten. Also, traveling during COVID is just not as relaxing, since you're constantly on guard, even in an environment where everyone is vaccinated. It's strange to be back to "normal" after two years of lockdowns. (It's still not normal when the crew is masked all the time.)
We had four dinners at speciality restaurants (two with an included meal plan and two as Platinum Plus members.) Once we upgraded ourselves to the Haven, we had our own restaurant, so we didn't venture out as much (we never went to the main dining room, we didn't try other speciality restaurants, we never went to the Local.) We had two of those dinners at Cagney's, and the service sucked (for the first time ever), so that was an issue.
We had lunch at Food Republic on our first sea day, which was very good, but it can add up quickly since it is ala carte and the food is small bites. Don't go here to get full.
We had lunch after our whale-watching excursions at the American Diner which is also ala carte, although you can use your meal plan. I think the menu is better than Margaritaville (which it replaced) but it still doesn't draw much of a crowd. I like the menu better than the Local (which is included in the cruise fare), but I have a feeling most people don't see the value in paying for something when you can get "almost" the same for free.
We didn't go to any shows. We had seen Jersey Boys on an earlier cruise, so we weren't planning to go. I really wanted to see Six and then it was canceled due to illness (it was announced that it was not COVID and not the flu.) Since we didn't go to shows, we didn't need after-show snacks, which is why we never went to the Local.
The selling point of the Haven (besides butlers and a concierge – and our butler was outstanding and our concierge was useless) is that it is an exclusive area with everything you need. This and entropy tended to prevent us from visiting other areas of the ship, just because you don't need to do so. For me personally, entropy is an issue because there were things I would have done outside the Haven that just never got done.
We ventured out of the Haven on the first sea day to visit the shops and to see our embarkation photos. Shopping required a bar stop to rest before returning to the Haven, so we visited the Sugarcane Mojito bar.
We spent one evening after dinner visiting random photographers to get enough photos for our pre-purchased photo package. (The photographers on the ship were excellent.)
We went to Coco's for gelato after dinner in Mazatlán. Gelato does not absorb margaritas but it doesn't hurt.
On the last sea day, we went to choose our photos for the photo package and that required another bar stop at Maltings, one of my favorite bars on the ship.
We had people in the group with mobility issues, so we spent a lot of time in the Haven lounge, relaxing. Spending time in the lounge with a drink plan can lead to everyone having mobility issues. It occurred to me when I was compiling my notes that I spent less time on the balcony than usual, because that time was replaced with lounge time, and because the first mornings were chilly. We did spend time on deck 19 outside. We also went to the Observation Lounge (our main hangout on the last Bliss cruise) for the Captain's Party, but that was it. This is a good example of Haven Entropy.