8:00am We're doing 22 knots and it is too early to be awake when we went to bed at 2am, but it's time to get moving to make the Meet & Greet at 10am. There is no coffee pot in the room! This is a bad time to realize this travesty.
8:30am The shower is smaller than some, but it worked. (We don't have a handicap room this cruise.) I did not have to "soap the walls and spin", as one of our friends suggested. I like the towels. Not that fond of the soap gel, but Virginia hasn't found the bar of soap she's sure was packed.
Had a Coke from the minibar ($3.75) in lieu of free room coffee. Well played, MSC.
10:00am Attended the Cruise Critic Meet & Greet. Offered orange juice, champagne, Aperol spritz or a vodka martini. The Captain is here, and he led a toast.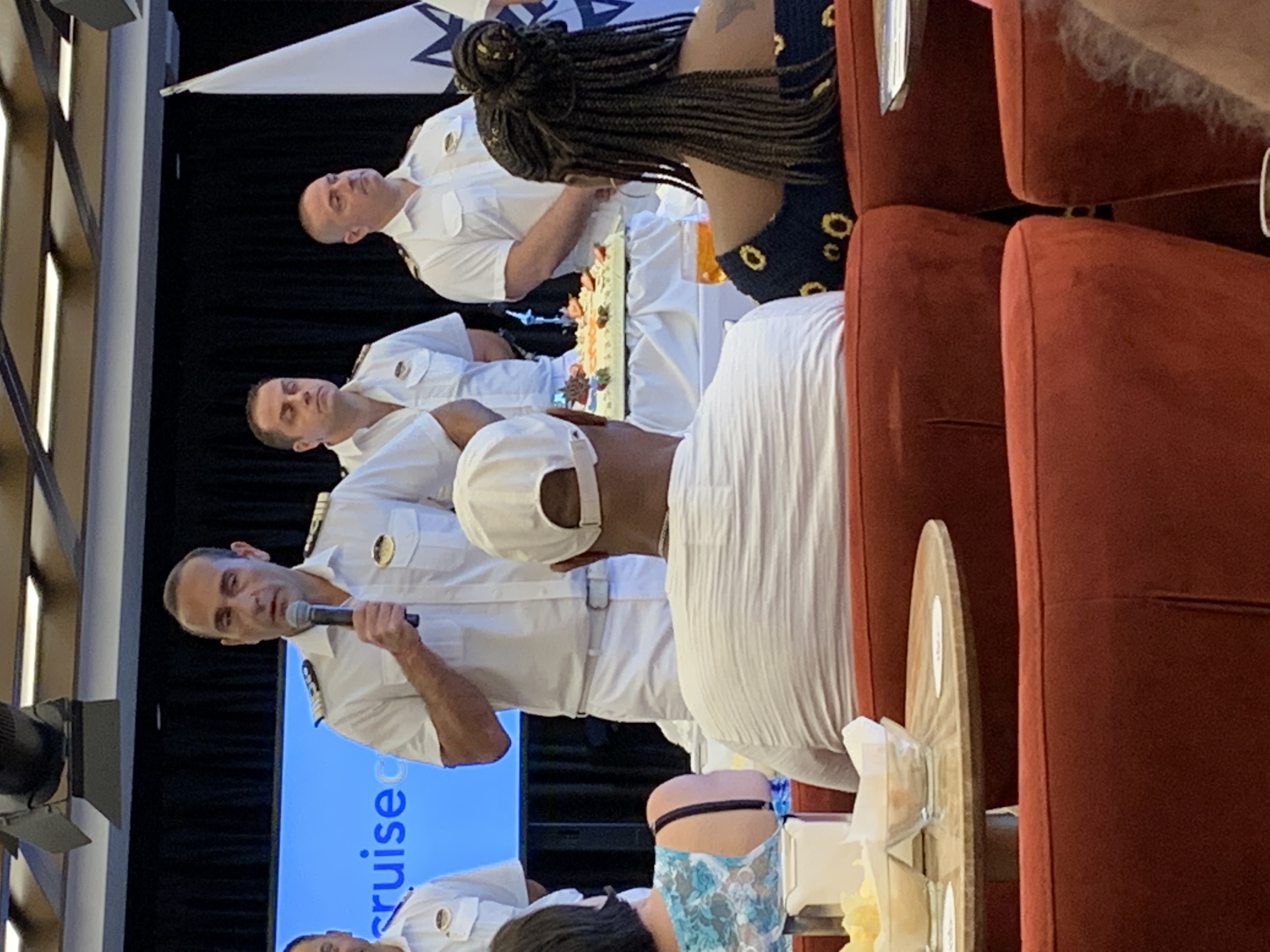 He also came and introduced himself. They had a cake. They took a group photo with the senior staff. Summary: I had two Aperol Spritzes. I have a new favorite cruise line. Two things missing: the Captain or the Cruise Director didn't introduce the other senior staff and we didn't get a contact card with people's numbers.
12:00pm Lunch in the buffet. There's salads, pasta, pizza, soups, sandwiches, veal scallopine and more. Heard Joe Sixpack demand, "Where's the real food?" Why do others hate Americans so? (Joe – hamburgers and hot dogs are at the grill station. Also, be brave. Veal scallopine is almost like the Salisbury Steak in your TV dinners.)
Virginia needs to stop asking for "Just water." We've bought two bottles of Italian still water so far.
1:00pm Slot Pull. Losing money as a group. Actually, turned $25 each into $32 each. We're rich! ($450 in, $583 out [big winner gets $39] in about twenty minutes.)
2:00pm Lost all the slot pull winnings. I think it's nap time.
2:15pm We found two chocolate ships in our room when we returned. This was an MSCism I really thought I had misunderstood. Black Card members get a "gift" each cruise – a chocolate model of the ship. It is literally that – the MSC Seaside in milk chocolate. Maybe they do know diabetics are onboard.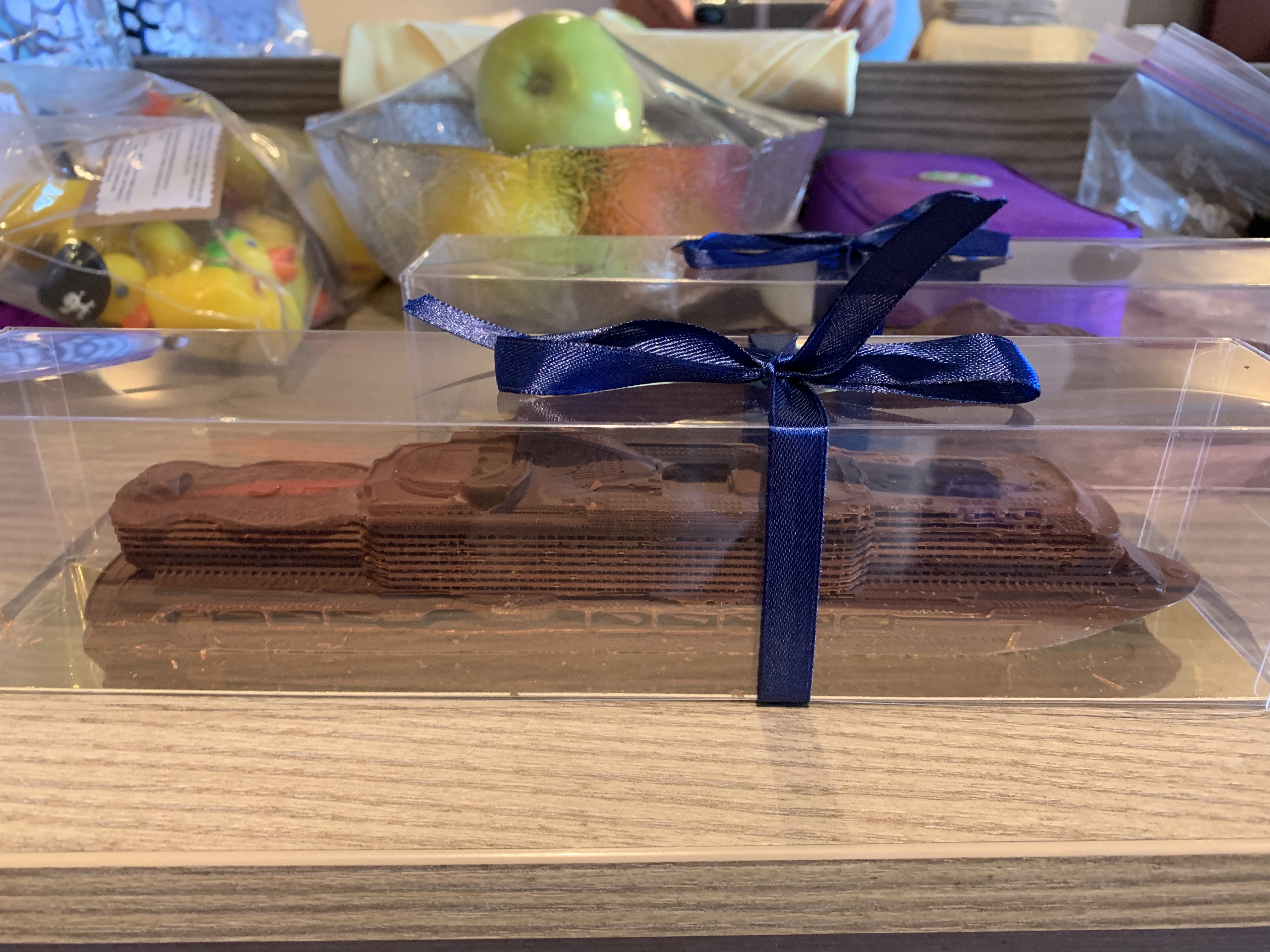 3:00pm Room Service called to see if we were available for a delivery. This is how you knock when the "Do Not Disturb" light is on. The caller thanked me for answering. Waiting to see if the dreaded chocolate-covered strawberries will arrive.
3:15pm It's the chocolate-covered strawberry delivery. Virginia said the chocolate is good, the strawberries are good, she still hates them together. I'm looking at the chilled bottle of Prosecco and two flutes that accompanied them, and am willing to overlook the strawberries.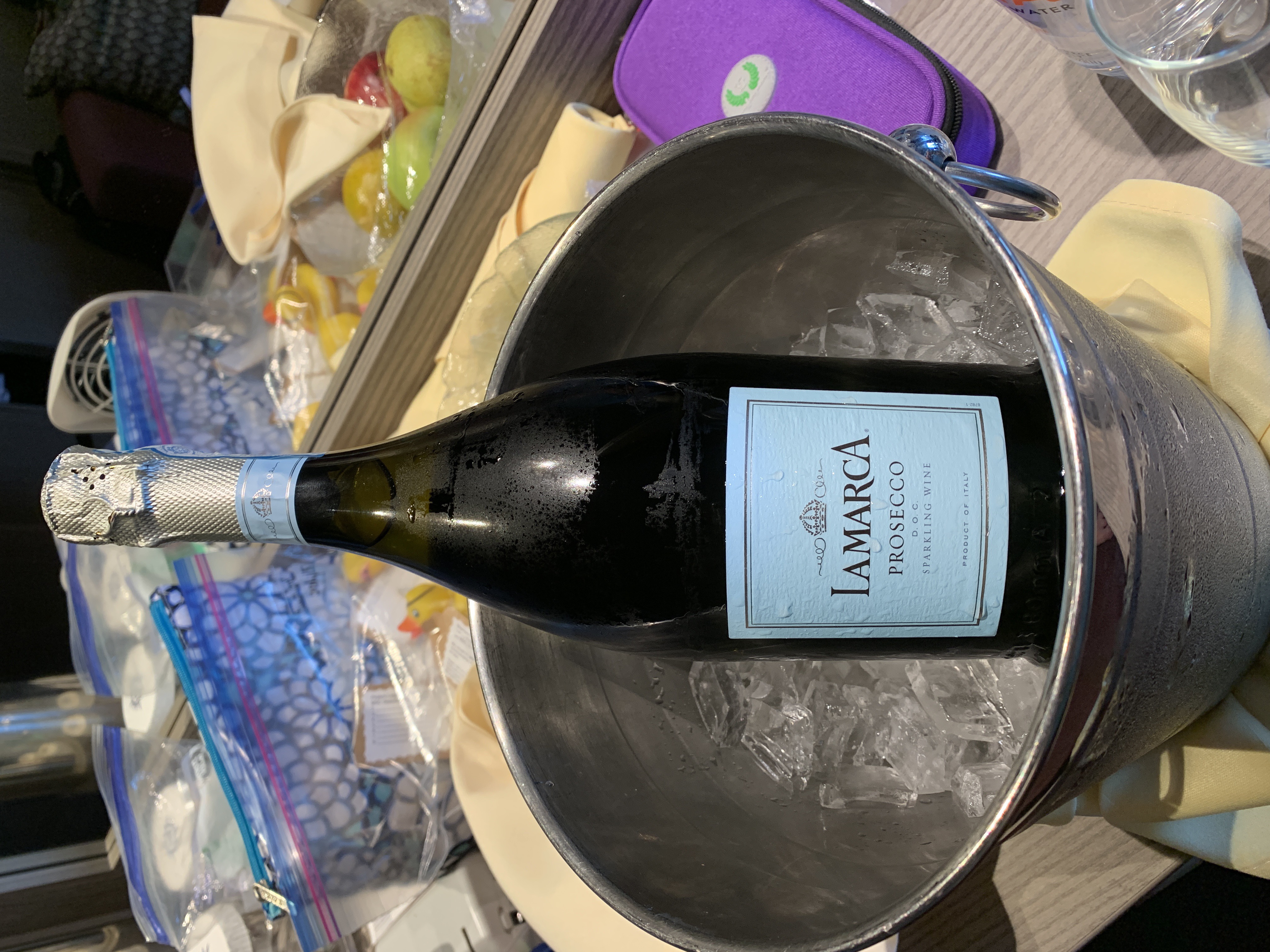 Ah, the Europeans. You can't get ice in a Coke but your chilled Prosecco will be in an ice bucket.
7:30pm Dinner at Roy Yamaguchi's Pan-Asian Restaurant. The MSC meal plans have separate menu pages in the specialty restaurants, one app, one entree, one dessert. You can substitute any item off the full menu for 50% off, and you can buy anything you want at full price. The Teppanyaki place from last night is also branded as Roy's place. I expected it to beat Norwegian just because there was a name attached but it didn't. First course was crab cakes and they were very, very good. Waiting for our Asian filets. The filets here were better than the Wagyu sirloin at Teppanyaki but that may be a chef issue and not a raw materials issue. Pistachio ice cream was amazing.
10:45pm BeerProv comedy show. Improv is only as funny as the audience's suggestions, but these guys rose above the "hilarious" audience. "What's a country with a distinctive accent?" "Australia!" "Russia!" "Alabama!" "Chicago!" Find the suggestions that don't meet the criteria.
Midnight: No towel animal. Trying for room service. No answer. Not the way to end the day.
Formal Night: Seriously, can't we get rid of dress-up nights? There is the dressed to the nines crowd who look really good, the compromised with the wife gang like me who just look uncomfortable (I had to wear a jacket, and I passed a guy who had to wear a tie. Together, we were dressed up.) Then, there are the people that just ignore it and wear whatever. Plus, some of the women were told "formal" and heard "hookers", so while mildly entertaining to see (mostly, I'm trying to eat here), it's not formal – unless filing a formal complaint counts. MSC has a lot more people at least trying than Carnival did, but it's still a whole lot of extra crap to pack, just so you can spill food on something expensive. The people who like to dress up look good, so let them dress up. The rest of us can't compete, so let us wear decent clothes without playing dress-up. "No shorts" and "Collared shirts" makes sense to me. Just use my dress code from prep school. The ones that can't dress that way are in the buffet looking for "real food", anyway.
An interesting note – since we were dressed, Virginia found a couple of photographers so we could get photos. There don't seem to be photographers in the restaurants! We were going to do our usual "choking" photo and the photographer hesitated. "Not on formal night. The rest of the time, people act crazy, but they don't like it on formal night." Seriously, who was forced to wear a suit as a child and never had therapy?
Random Notes: Virginia overpacked. There are not enough hangers in the closet. Nobody seems to understand the concept of "more hangers." You would think a cruise line with two formal nights in a week would realize women overpack.
Still trying to find a Sharps container. You would think a cruise line famous for bread, pizza and gelato would be used to catering to diabetics.
I hate the trash can. I know it's something most people don't even consider, but this is one of those small three-corner paper/plastic/other trash cans for recycling and the sections are insane. They expect us to produce more plastic waste than anything. On a ship? Where am I going to get plastic waste? We produce Kleenex by the score, I produce empty soda cans, and those slots are full to overflowing. No plastic.
We have discovered the infamous water issue. If you tell the waiter you just want water, they will produce a $5 bottle of still water. They don't think "cheap bastard" and bring out the tap water like other lines. I read on Cruise Critic that Europeans didn't get water included with their meals, so maybe they think we're Europeans. At this rate, Virginia's water bill is going to be higher than my bar tab.