12:35am We finally got Room Service. I called again and they gave me the answer to set up a callback – which was a couple minutes later. We'll see what we get. We'll be ordering breakfast before we crash.
9:15am Waiting for breakfast delivery between 9:30am and 10:00am. It looks like a beautiful day outside. We still have hours before we hit port this evening.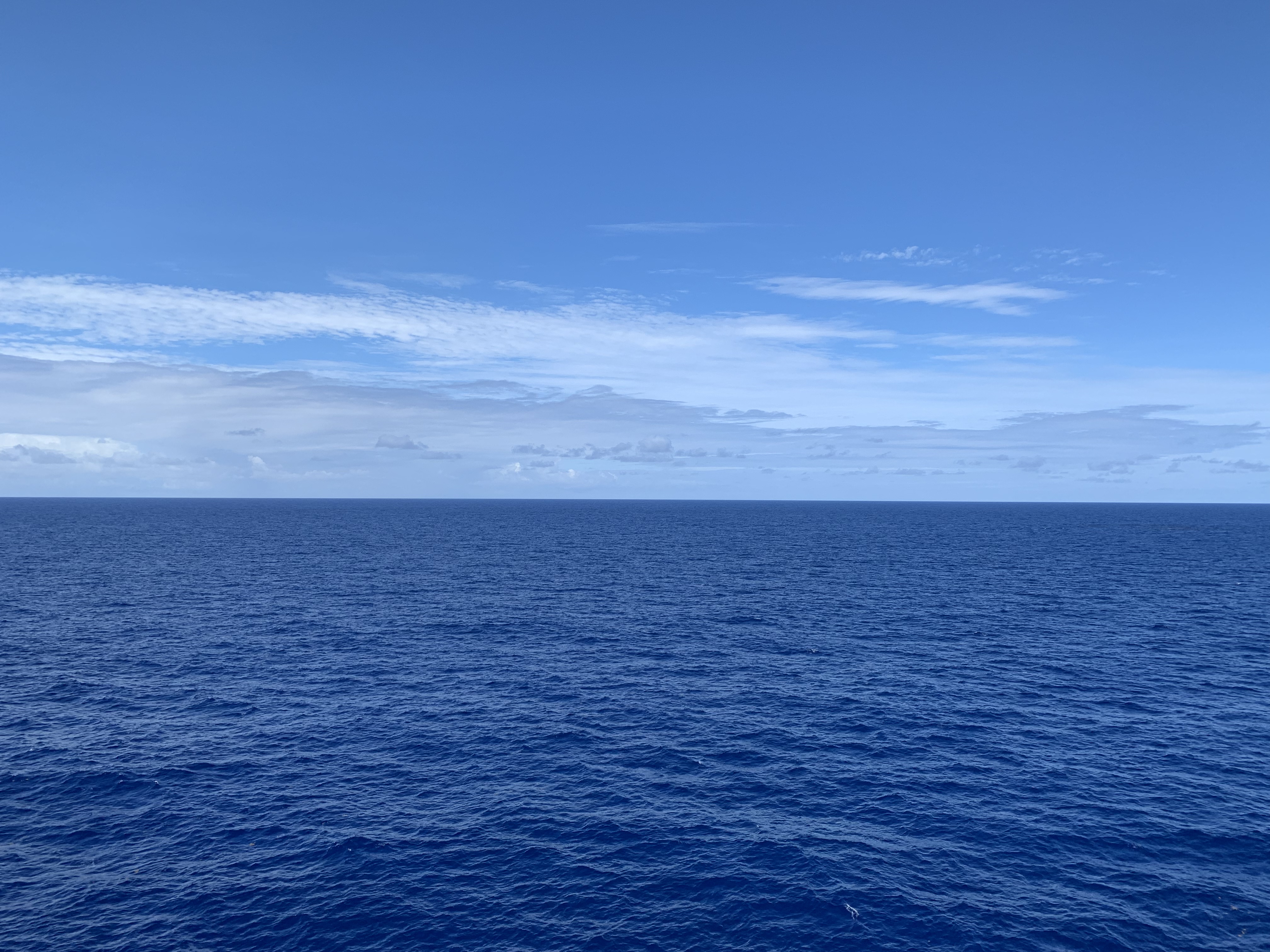 10:10am Room Service delivered the Continental Breakfast items but none of the hot items (i. e. all the stuff a diabetic eats.) I got a call from Room Service after the server left that said American breakfast is not available after 9:30am – which was the time I ordered it. I'm pretty sure this is not documented anywhere. THIS IS A MAJOR PROBLEM. I don't like "unwritten rules." Also, if you miss a half-hour window by ten minutes, then not having food ready is on you. The order should have been prepared while the galley was open. Also, if we can get other food (sandwiches) from Room Service and the buffet is open now, don't tell me the galley is "closed."
This is the issue that may cancel our Christmas cruise because Virginia is on medication that requires she take it with food within two hours of waking up which is a logistical nightmare if it takes an hour to get ready to go anywhere, especially on days with early excursions. With food means high protein and low carb for diabetics. On Norwegian, I just pay the $7.95 for hot food and get room service.
It is a tremendous pain in the ass traveling with a diabetic but it is also a fact of life and one that should not be foreign to a cruise line, especially one that is trying to break into the American market. We still don't have anyone that understands what a Sharps container is and now the breakfast issue. If we can't get hot food (protein, please) before a morning excursion, that's going to pretty much kill our mornings.
I find Virginia's food issues unreasonable at times, but they're not unusual. Anyone on this medication needs food within two hours and if they're diabetic, they should avoid carbs. Sure, we could shower and go to the buffet (or not shower, like some), but we're on vacation and if you offer a service, it should work. If the galley shuts down at 9:30am and the order is supposed to be delivered between 9:30am and 10:00am, the galley can prepare it before it closes.
A couple of other strange (to Americans, perhaps) things: my coffee has sugar available but no cream. The rye bread we ordered is just that – bread. Not toast. I picked it up and thought, "European hotel breakfast buffet." Unfortunately, there isn't a wire toaster in the room. There's also nothing for the bread: butter, jam – but I think that's ordered separately, and since Virginia expected me to make a bacon sandwich (had the bacon arrived), she probably left it out.
11:00am i started my own Sharps container crusade. I called Guest Services, which is really the front desk, said, "I don't know if I need to speak to you or medical, but my wife is diabetic and needs a Sharps container for her needles" (keywords to trigger an "a-ha!" moment underlined.) I was promised a call back.
I don't like triage systems, even though I worked in them at IBM for years. If you need multiple levels to answer a simple request, the training (or experience) is lacking. When I started doing technical support, I was level one at best. Within a couple of months if experience, I was level two, and by the time I got moved to another team, I was answering questions that we had sent straight to the lab when I started. I'm not a genius – my whole team did this. We just took good notes and the same types of questions repeated until you had the answer internalized. The MSC Seaside has been home-ported in Miami for over a year. Even if we assume nobody in Europe has diabetes, somebody sailing from Miami has needed a Sharps container before.
1:15pm No callback yet. When Virginia gets out of the shower (lazy day), I may most on down to medical. Still five hours until our excursion!
2:30pm Late lunch in the buffet. Many of the people eating with us were just st the pool, or are going there next. Or, they just like showing their boobs. Caved and tried the "real food" and the cheeseburgers are actually really good.

This is why I'm dehydrated on cruises. This is the free drinks glass. Seriously, can't you have decent-sized glasses? All the free drinks are watered down anyway. I know I'm supposed to get my steps in, but my dentist has larger spit cups. (For the record, this is the same cup and "drink" machine as Norwegian.)
3:15pm
Went to go ask Medical for a Sharps container. Went down to 4 and stepped out onto what looked like I-95 (the cruise ship version.) There were people out of uniform but they all had name tags, so rather than risk the brig for trespassing, I decided to go up to deck 5 and walk to the forward elevators. Deck 5 is where Guest Services is, and it was before the forward elevators. I stopped at Guest Services since it was there. I told Carmen my wife was diabetic and needed a Sharps container for her needles. Carmen said, "Yeah, yeah, yeah. What's the room?" She called someone on the phone, repeated the request, hung up and said, "One will be delivered." Now, we wait.
4:30pm
Feels like we're docked. Our excursion meets at 6pm so we still have some time to kill. This is good, since we both forgot to charge our camera batteries.
Just had the arrival announcement in multiple languages. Pretty sure by the end of the list, they're saying, "Look outside. Figure it out." This is the first time I can think of where people without excursions are free to disembark and we have an excursion that won't leave for ninety minutes. It's also the first port call where the All Aboard time is tomorrow – 12:30am, to be exact.
5:00pm
I'm glad we're still in the room since we just got a call about the Sharps container. Carmen called and reintroduced herself (remember what I said about taking ownership?) and said that she spoke with Housekeeping and they don't have any left, and Medical doesn't have any, either. This does not solve the problem, but it a) says it's Housekeeping's problem, so our room steward should know what one is, b) closes the issue with an answer that is not optimal but reasonable, c) says she tried multiple departments before calling me back and d) throws Housekeeping under the bus, which is useful for her protection when I write a complaint.
Since I had her on the phone, I asked if we could take our portable Sharps container (yes, we've had one all along but it will be full before the end of the cruise) to Medical and have them empty it. She said she'd check and call me back. Two minutes later, the phone rang. Carmen said we can dump our waste at Medical or we could leave it out for Housekeeping and they could take it down and return it. Since Marc doesn't know what a Sharps container is, I'll think we'll do it ourselves. I also know if anything else comes up, I'm going to Carmen. Time to get ready to visit Bacardi.
5:45pm
Checked in for the excursion. Have our official nerd stickers. There are multiple excursions, so they need numbers, otherwise the stickers would just say, "Tourist" or "Victim".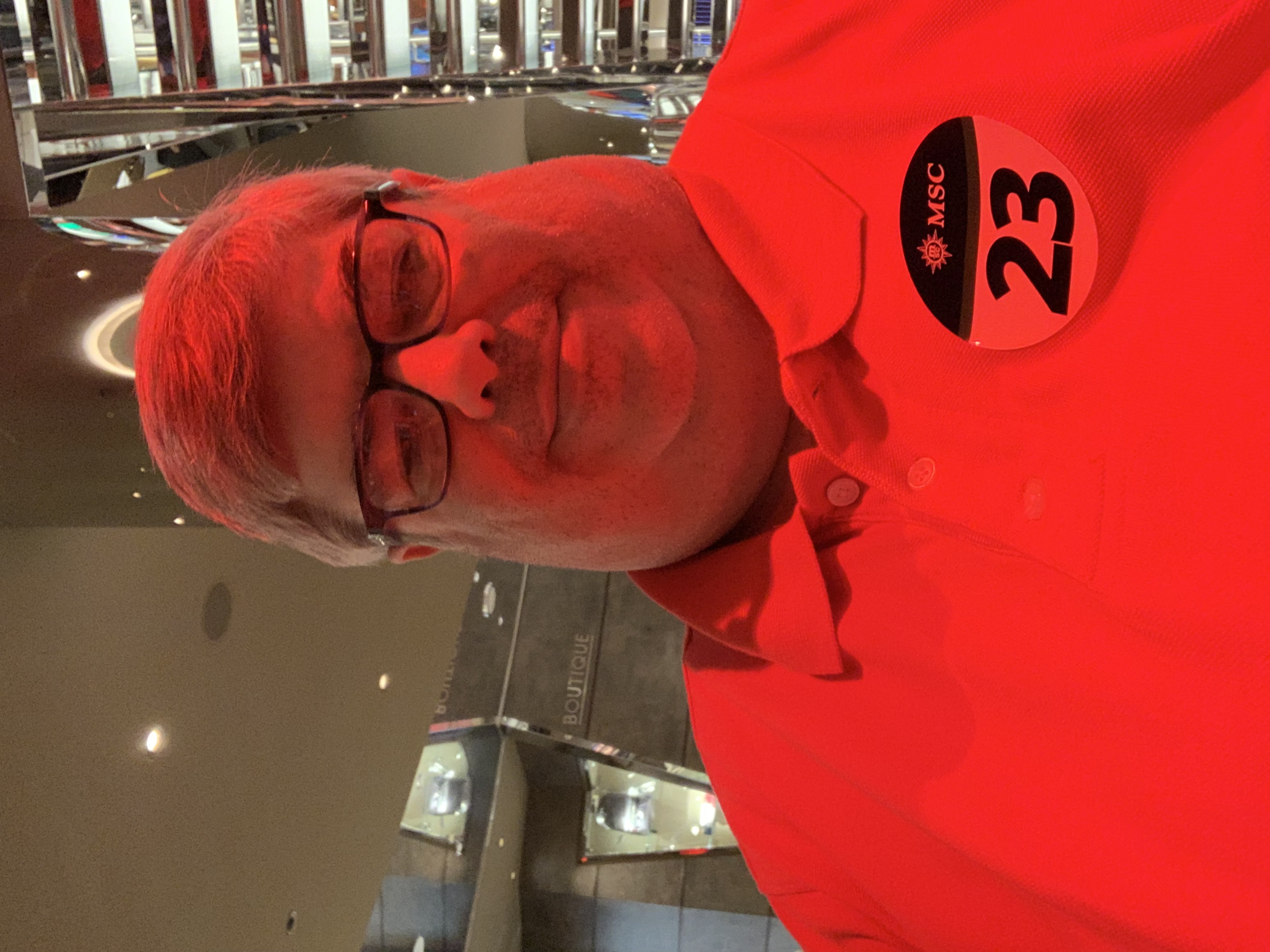 6:15pm
Off to Casa Bacardi. Before boarding the bus, we got our first decent view of the MSC Seaside, our floating home away from home this week.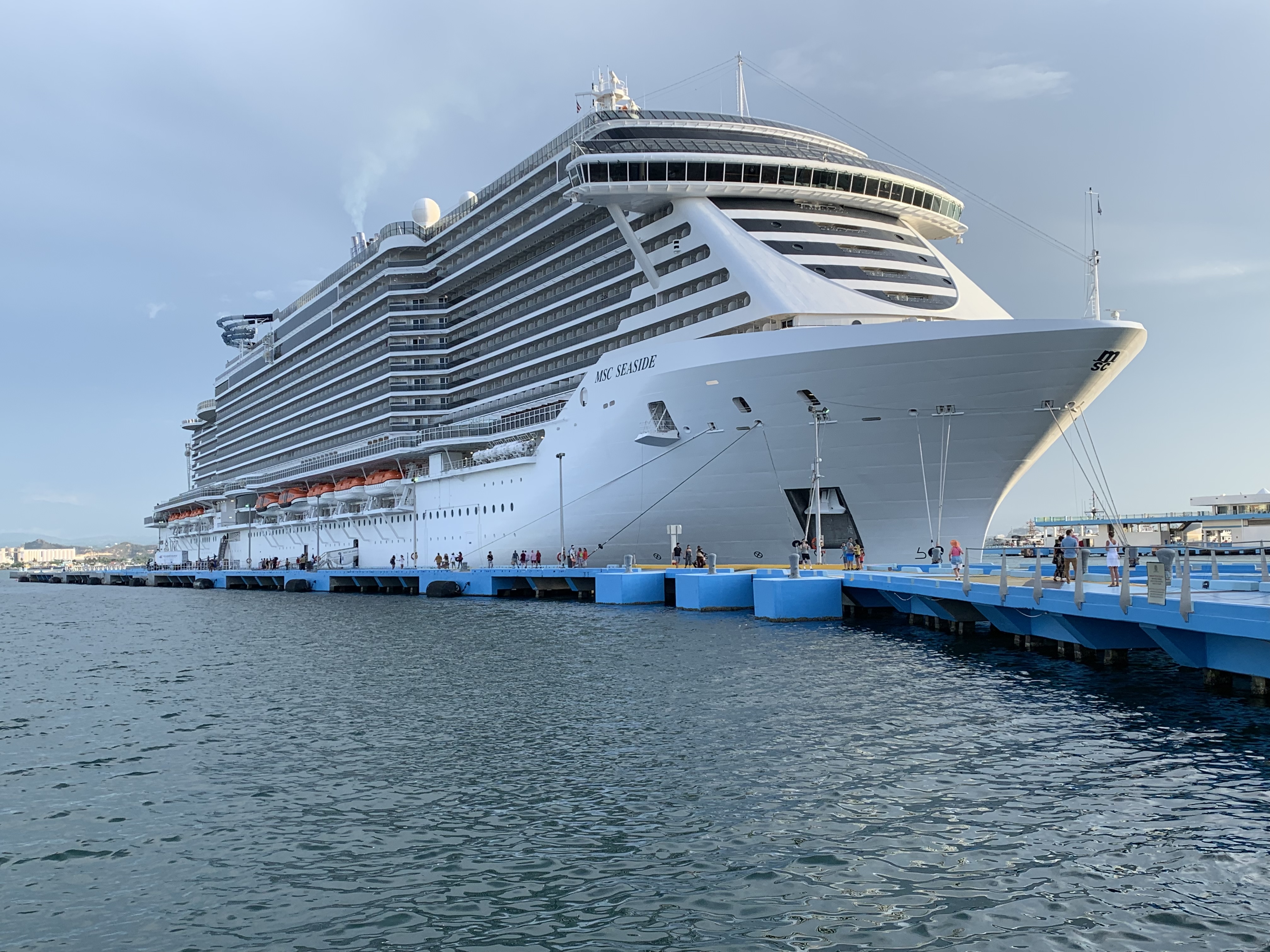 An Evening in San Juan:
We crossed off a bunch of my bucket list tonight. Visit the Bacardi distillery. Check. Have a bartender comp me a drink after the bar was closed. Check. (OK, I may have done that before. Tip early, tip big.) Spend over $100 at Walgreens without buying Virginia's drugs. Check. (It took a Walgreens with souvenirs.) Do shots with the waiter at Senor Frogs. Check. See a ship after dark without watching it sail away. Check. Our first
evening in a Caribbean port.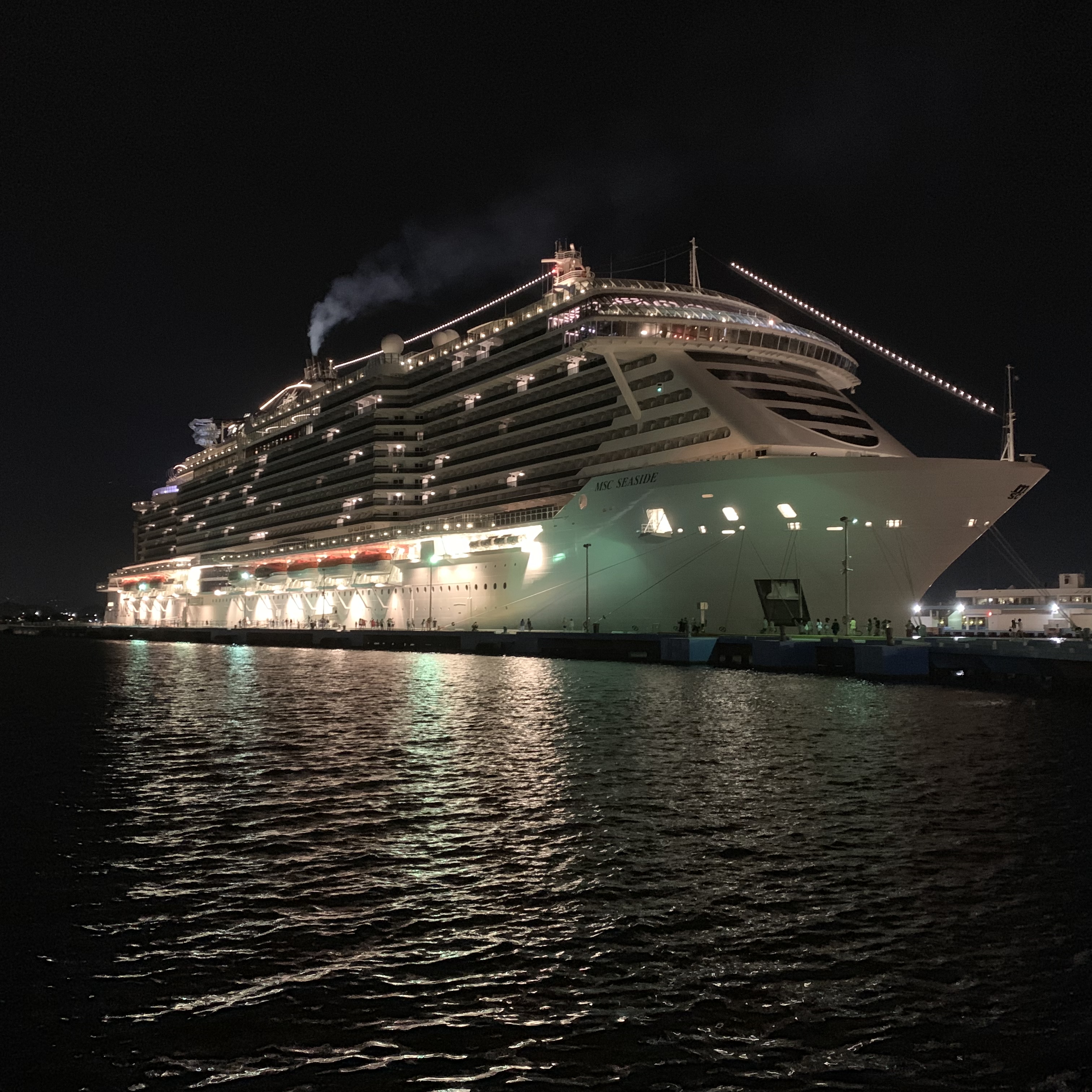 Random Notes
: This is an interesting port call. We will be at the pilot station at 4pm (per the Daily Program which has navigation notes [I love this]) and we're scheduled to arrive in port at 5pm. Our excursion meets at 6pm. We're in port until 1am – all aboard is 12:30am. This is the first evening we've spent on an island in the Caribbean.
Nobody has said anything about time zones. I'm pretty sure our ports are Atlantic time and we're on Eastern time. This either means we're staying on ship's time the entire voyage (I think Royal does this) or they will tell people as we disembark for excursions tomorrow. Norwegian adjusts the clocks at 2am the day of the change or the day of the first port.
There doesn't seem to be any way to hear announcements in the cabin. Most are the Cruise Director plugging the day's activities (the Captain doesn't seem to do daily status/weather/location announcements, I guess because so much is covered on the Daily Program), but it doesn't mean I don't try to listen to them, without running into the hallway.
On reflection, the piece that is missing in the service is something I trained my team at IBM on years ago – it doesn't matter if you
solve
the problem on the first call, what matters is that the customer thinks you
care
about him and his problem. I would tell people "I will fix it" before I was sure anything was broken. I'm not getting that here. I see getting passed to someone else because "it's not my problem." It is as soon as I asked you, and it remains your problem until you get someone else to take ownership. If you want delighted customers, you follow up even after someone else takes ownership to make sure it's fixed.
Virginia asked for the Cokes in the minibar to be replaced with Coke Zero. Our room steward has no idea what she's talking about but I think he has no idea how to make it happen. Some other team preps the kits for the minibar and it's standardized. Marc has no idea how to go against this, and I think he's afraid to try. Someone above him puts efficiency above satisfaction. That's an issue.
I'm beginning to understand some of the loud complaints I used to think were rather petty.