6:00am – Who booked an excursion the day after a port stop that lasted until 1am? We staggered out of bed, showered and headed for our 8am meeting. I missed my morning coffee since Virginia settled for a protein bar instead of going to the buffet for breakfast where she could have gotten me coffee.
8:00am Off to the buses. St Thomas doesn't have buses, it has vans with open sides and bench seats. Also, very treacherous steps, especially when they are wet. It was raining, one of the first times we've ever had rain in the Caribbean.
MSC has one nice (and useful) bonus for their excursions – if it looks like rain, they give everyone a poncho as you check in. By poncho, I mean a trash bag with arm holes. I have not tried one yet, because "one size fits all" usually means "except you." Still, it's a nice touch. It also helps you find people from your ship at tour stops – just look for people in ill-fitting blue trash bags.
Onto the excursion – a scenic drive with a visit to Magen's Beach and shopping. Our driver's name was Francis. We had to know this because there were a bunch of red buses, so the way you find your bus is by knowing your driver. Finally saw Magen's Beach, "one of the ten most beautiful beaches in the world according to National Geographic." (We were told that a lot.)
Francis must have had a lot of old farts on his tour because he repeated everything twice. Everything. Twice.
This continued even after the first two rows of the bus started repeating the repetitions. "I think this beach was in National Geographic." "Isn't it one of the most beautiful beaches in the world?"
Lighten up, Francis.
There were beautiful views of clouds and fog all the way up the mountain.
9:00am We went to Mountain Top, the second-highest point on St Thomas (and the one with a very expansive gift shop) which gave a wonderful view of the tops of the clouds. The gift shop is world famous for its banana daiquiri. World famous for its banana daiquiri, the gift shop is on the second highest point on St Thomas.


While I was taking photos between rain clouds, Virginia was finding dog clothes. That's how big the souvenir store is – they have pet clothes. I got myself a hat to help keep the rain off, so naturally the rain immediately stopped.
9:30am On the way down from the Mountain Top (which is the second highest point on St Thomas), we paused to look at the clouds blocking our view of Water Island, "the smallest of the US Virgin Islands." I give Francis props for having the humor (and the balls) to stop at a photo stop that was completely fogged in. Well played, Sir.
After the mountain, we spent two hours at Magens Bay, "one of the ten most beautiful beaches in the world, according to National Geographic." Virginia was feeling shaky, so we hit the restaurant. They were serving breakfast, which I found hilarious. I'm not sure why – I just think a burger stand on a beach (even one of the ten most beautiful beaches in the world, according to National Geographic) shouldn't have separate services. Virginia wanted a cheeseburger and had to settle for an egg, ham and cheese sandwich. I will be forever grateful to this place, because although the waitress/cashier/runner seemed a wee bit stressed ("Customers? On a day a ship is in port?"), she had coffee. Blissful coffee. Wonderful coffee. OK, it was caffeine and I needed it.
After Virginia had breakfast, she felt guilty about taking up a table, so we had a Johnny Cake with ham and cheese, and I had more coffee.
I still can't believe there isn't a coffee pot in the cabin on the ship.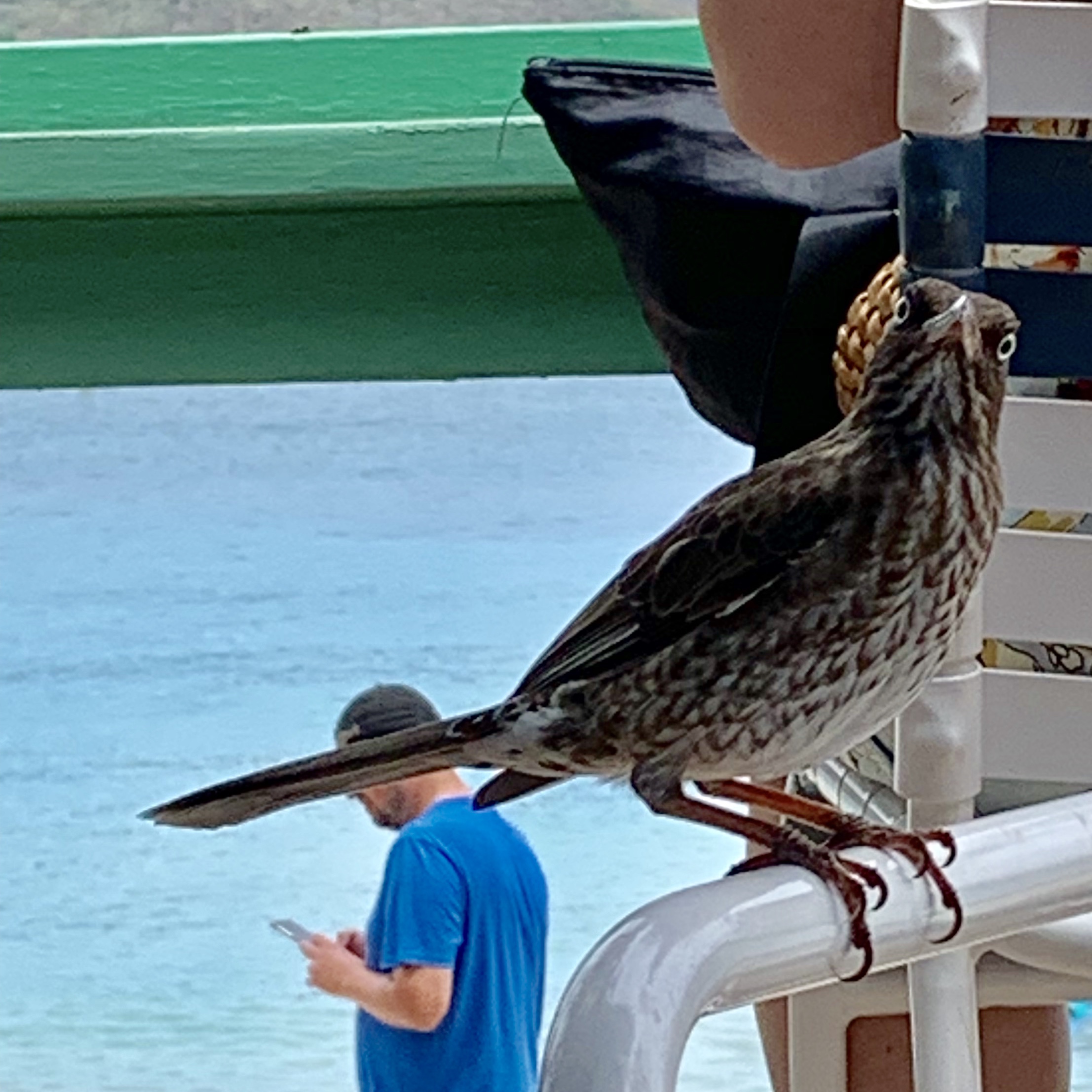 There were birds everywhere, so we cleared off our table so they wouldn't attack us.
We never made it into the water. There is something quite relaxing about watching people trying to have a day's worth of fun in an hour, while enjoying coffee.
Looking down across the bay, I remember thinking, "This must be one of the most beautiful beaches in the world." I'm not sure who would rank something like that.
After the beach break, it was back to town for shopping. Virginia was so tired she didn't want to shop. This is a miracle on the order of the loaves and fishes. So, we wandered down the street to catch the shuttle boat that would return us to the ship.
1:00pm We joined the mob waiting for the boat. In the Caribbean, "return you to the ship" means "take you to the opposite end of the shopping strip mall conveniently located parallel to the dock."
The boat ride was quick but I realized one of the advantages of traveling an international cruise line is that on a water taxi, diesel fuel and marine exhaust are not the most annoying smells. Aftershave and cologne are.
1:30pm Safely off the water taxi. Able to breathe again. Virginia needed a restroom. I know from experience that this needs to be played delicately, since we will be spending money in whatever establishment she pees in. (It's like dogs marking their territory.) As God was smiling on me today, the two closest places were a sushi restaurant (never happening) and The Tap and Still ("Beer, Booze and Burgers.")
The Tap and Still received two of the two votes in our group and was elected as the bathroom. As Virginia fled to make a deposit, I had a Captain Morgan & Ginger Ale, because I didn't want to appear rude.

Virginia came back and ordered Club Soda, so I was glad one of us was being really polite and taking full advantage of the facilities. In fact, I had another Captain & Ginger just to make sure everyone was happy.
This may be the time to mention that MSC doesn't seem to have any Ginger Ale onboard, so I wasn't really drinking, I was stocking up for the rest of the week.
We ordered lunch – which required us to fill out our own order blank. We turned it in (to the same bartender who made our drinks) and she handed it back because I hadn't specified any toppings for my Patty Melt and all the toppings were included.
I had failed ordering.
I selected grilled onions, since they should be there, anyway, and grilled mushrooms because they sounded good.
It was. It was an excellent bar burger and fries.
I began to worry about the number of drinks I was having, so I ordered the locally brewed IPA. Very tasty.
At this point, I had successfully completed both tiers of the Tap and the Still. Virginia had another Club Soda because she was still rocking the "Too Cool to Drink" look. Nobody believes it in the islands.
We wandered down the street to the ship and passed Islands in the Sun – a boutique (an expensive souvenir stand) run by a lovely Indian gentleman. Virginia bought two dresses but didn't get sucked into the high-quality, discount jewelry. She's losing her touch, or he's losing his.
Then, it was back to the ship, where we realized we only had two hours until dinner.
4:00pm
Virginia was thirsty so she ordered water from room service. The boutique may have been cheaper. I know the drinks at lunch were.
Virginia is napping while I'm documenting. If I nap, I will forget this. That's how good the IPA was.
I just had one of the Coke Zeroes. Mainly because I wanted to feel rich.
6:00pm
Time for old folks' dinner at the Butcher's Cut steakhouse . Our waitress was the same woman who helped us book our dinners right after we boarded. Much bonding ensued.
The wall into the steakhouse is Asti Spumante bottles, which is interesting since it's not on the wine list. Virginia saw the bottles and remembered her sister and (late) brother-in-law drinking it early in their relationship and requested a glass (I had to ask her the reason it was special because I didn't know the story.) The sommelier apologized and said it wasn't on the wine line, and suggested something similar. Virginia said it was a sentimental choice, and it had to be Asti, but to just skip it. She said it was surprising it wasn't available since there was a wall of bottles entering the steakhouse. At that point, the sommelier said, "I don't have it on the wine list, but it's in the bar, so I'll just get it for you."
This at long last is how you solve a customer request. Tell them where it isn't, tell them where it is, and make it appear.
So, after dinner, we each had a glass of Asti Spumante and toasted my sister-in-law and her late husband.
Virginia told me the story of them having it their wedding reception or on a date or some important date. She finally texted her sister for the story and it turns out two of her sisters drank it in Italy on vacation. So, celebrating a marriage, getting hammered on vacation. It's the thought that counts.
What counts for me is the steakhouse team made it happen. The steaks were good, too.
8:30pm
We had reservations for the show but skipped it. Long days and nights are catching up with us.
Back in the room, we found our invitation to the MSC Voyagers Club Black Party, perhaps another chance to drink with the Captain. We also found two MSC ball caps on our bed, which must be our Voyages Club gift (in addition to the chocolate ships.)
10:30pm
We're doing 9 knots. Somebody is trying to make 100 nautical miles take a long time.
10:45pm
(prediction – it's actually 9:45pm now) Tonight is the Country-Western party and Virginia got me a Texas flag shirt to wear. I wore the shirt to dinner because we're going to be asleep before the party starts. In fact, Virginia's snoring is distracting me while I'm writing this.
Random Notes:
We got a statement for our minibar consumption. I think we're supposed to do the forms but I never have. The minibar has never been refilled and it's now clogged with the room service drinks we've ordered. I guess the Coke Zero we requested from our room steward will never arrive. At least he's providing ice now.
There is a Kleenex holder in the bathroom that has never been filled. I'm not sure why it's there. Maybe Europeans never sneeze.